Special "Spring in Monte Carlo" by Peter Hermes
Jeudi, 26 Mai 2011 15:55
Music otherwise "Spring in Monte Carlo"
What a surprise and pleasure to review the impressive innovative program of this music festival ! Extending for over three weeks in March and April and located along many French Riviera towns such as Beaulieu, Cap d'Ail, Menton, it's real home hub is Monte Carlo. The festival is celebrating 25 years and its music director Marc Monnet is celebrating along obviously pleased. "They have asked me to do something different "he told the Diapason, the leading music magazine of France, "and since 2003 we have done so and scheduled the festival at this time of the year when no other music festival is yet open.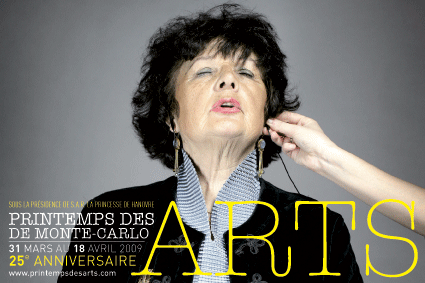 "This year, the program goes from the classical quartets of Beethoven works of Bach, through the somber chamber music and lieds of Schubert, the Romantic Debussy to the modern, Dallapicolla, Albeniz Chausson Kurtag and Monnet himself. Major chamber groups such as the Parisii quartet, the Prazak quartet, Important orchestras such as the Nice Philharmonic and the Monte Carlo Symphony with its dashing new conductor Yakov Kreisberg, are on the roll call. String of soloists ; Christophe Eschenbach accompanying at the piano the baritone Matthias Goerne, the pianists Jean-francois Heisser and Emanuel Strosser, the cellists Marc Coppey and Pieter Wispelwey, the violinists Ilya Gringolts and Tedi Papavrami I have passed a few but will not pass the worlds top violist Tabea Zimmerman whom I will hear tonite.
---
Spring Festival. Monte Carlo - April 3 2009 Prince Rainier III Auditorium.... The Monte Carlo Symphony Yakov Kreizberg conducting Tabea Zimmerman viola.
Impossible not to feel poor unless you are very rich, in Gold blessed Monaco .The Dollar and Pound crash the subprime mortgage disaster does not seem to have affected Monaco. Even Bernie Madoff swindling has not touched the upper crust or so it seems...
Folks still dining at Alain Ducasse 3 stars exclusive pad at Hotel de Paris for 500 $ a couple (pourboire non compris). Ladies wear high fashion garb and diamonds studded colars, gents are clothed in hand made suits with upper breast pocket silk hand kerchiefed and de rigueur Gucci loafers. Of course most Monegasques are folks like you and me watching their purse and worrying.about the end of the month.
And now to the Music. It was a splendid event. Splendid because of the resonant, full fledged, throbbing sound of this international orchestra where the young largely outnumber the old, with a heavy representation of the strong sex, concertmaster included, European and Asians mixing in happy fellowship. Splendid because of the energetic, gripping, precise conducting of the new conductor Yakov Kreizberg who comes from Russia with love. Ah ! then there was Tabea Zimmerman... Tabea come on stage first alone, stage set dark then a spot light brought her to life, center stage. She is a tall attractive lady with direct bearing. The viola is an organic  part of her. She holds it effortessly and sways ever so lightly along. Then the sound. This is a special sound: lush, rich, luscious, abondant of many colors. Close your eyes you would think a whole ensemble of strings is playing on stage."I try for a deep overtone" she will tell me in a hurried interview afterward. The Gyorgi Kurtag, extracts she plays, one of them dedicated to her, go by fast. The orchestra joins her in the first movement for the concerto for Viola by the same composer. It is modern music but harmonious and likeable, owing a good deal to his fellow Bartok. The public does not want to let Tabea off stage. The orchestra applauds as vigourosly as the public then you know the soloist is REALLY special. The two Schubert symphonyes the Unfinished in si minor and the Great in do magior bring us back to home territory. Kreizberg gets a romantic sound with hushed pianissimi and full throttled fortissimi that replete the hall. His beat is precise energetic, the orchestra responsive, it will be a great marriage. The young wind instrument soloists are excellent and get a special bow from the maestro. The public is enthusiastic and will not let the orchestra off without an encore. Marc Monnet, the festival director, a noted modern composer as well, should be pleased.
It is a midweek evening, the sky was overcast, predictions for rain yet the hall was full and entusiastic. Princess Caroline an art connoisseur who is the patron saint of the festival must be smiling too.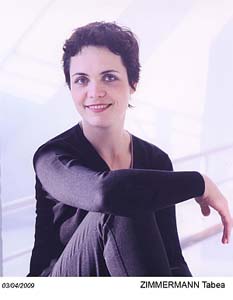 Interview with Tabea Zimmerman. I went in the intermission to congratulate Ms Zimmerman on her unforgettable playing and asked to come next morning for an interview. We were standing in the hall "if you want to interview me we will have to do it here and right now. I  am flying off tomorrow morning at 7 am". "Could we go inside your room ?"
Tabea Zimmermanis a tall attractive woman. She is straightforward, and tell it as it is.
"I grew up with music, we are six brothers and sisters most play and three are professional violinist, cellist and pianist. "The family lived in Lahr a small town near Freiburg (Germany). Tabea started viola young, very young at age three she was probably the youngest viola player ever, (playing a minuscule one i expect) then there was a short stint with the piano. She remembers fondly the music school in Lahr. "They gave me everything" None of the bitter memories of so many prodigiy children fed a diet of forced practicing, social outcasts, forever trying to regain a lost childhood.
Then the Hochschule for Musik in Berlin (The Hanns Eisler). Then the arduous but inevitable Golgota of competition. First Prize in Geneve then in Budapest assured her of a burgeoning career. In one of the competitions the prize was the the viola she plays a Etienne Vatelot 1980.
"I thought you play a Guarnieri or Stradivarius"."They are great instruments but their tone is too sweet. I look for individual coloring, deep overtone, a chamber orchestra sound " I assure you she gets the sound she wants.
Tell me about great musical experiences. Well I loved Budapest, Bartok is my hero. "What about Ligetti ? "He wrote a piece for me" And Liszt "?
"Unfortunately he could not write for me but he left us a short piece remorse oublie".
"Let's talk about tonite about Gyorgy Kurtag"
"Gyorgy is a great composer, a modest man but an insider in modern music, he is also a great teacher. Tabea had played tonite two of his works and, more will be heard during the festival. Not many have written for viola ; classicaly Beethoven gave us the triple concerto;violin viola cello, Berlioz Harold in Italy "Bruno Mantovani has signed a double viola concerto that Tabea plays with her star student.
"That is the reason she has founded the Arcanto Quartet. She loves the Romantic repertory the quator litterature allows her to explore. She loves sharing the good music with her fellow musicians. "We are a good team, we are friends, we are 4 soloists who get together and tour one week of the month". They have played and will play in all the great capitals and festivals of Europe.
Tabea Zimmerman has recorded extensively ; Brahms, Bartok, Hindemith, Shostakovich and Stravinsky. In one of her recordings she has played on the viola that belonged to Beethoven talking about important friendships.
Tabea is picky about her engagements. "I don't play more than 50 dates a year" She of course plays the major Orchestras and Major dates.
But there is a family life too. Three children and a husband ; Stephen Sloane, a major musician on his own who is director of the Bochum Orchestra and guet conducts all over the world.
"What is important" ? "To have good or great musical experiences, partnership with the public and the musicians more than a famous conductor who does not pay attention to what you are doing"
"What is Missing "? "Nothing is really missing, but I am a nature person and would like more green, more trees, birds around me.
The citizens of the "Côte d Azur" want Tabea  Zimmerman back soon. May be in a piece written for her by the director composer of the Monaco Spring  festival ?
Peter Hermes
---
Monte Carlo 5 April
Concert at the Opera House.
Christopher Eschenbach piano Matthias Goerne bariton ScHubert (1797-1828) evening Inceptum 1872 Exactum 1879 reads the inside dome of the spectacular Opera house that will hear Eschenbach and Goerne travel together in the Winterreise/It is a Roccoco structure built by Garnier (the same Garnier who buit the Paris Opera) a bit heavy on angels, muses, laurels all covered in gold (plaquee or) the heavy (Vienna ) crystal chandelier glittering. Truly a Royal opera house for crowned heads and large purses.
Surprisingly revolutionary spectacles took place here. In the beginning of the last century "the Ballet Russe "choreographed by Dyaghilev, the Sacre du Printemps of Stravinky. In the lead was Nijynsky the Baryshnikov of the eary twenties. Dyaghilev his lover disposed of him when his enjambes stopped being perfect. He died in a psychiatric hospital. Schubert did not fare much better. On his death bed he was correcting Wintereisse. He was 31 years old.
But now to tonights singing. Goerne a famed bariton takes us through the palette of human emotions of the 24 songs written by Wilhelm Muller.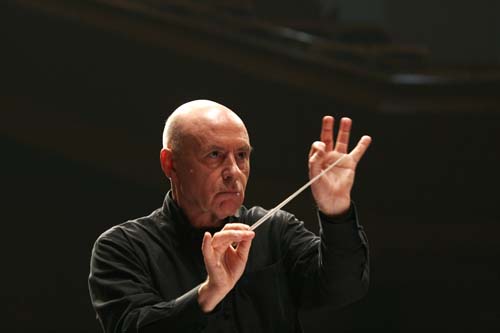 Some are famous and become "popular tunes" such as Gute Nacht" and "Fruhlingstraum ". The rage and despair the solitude and the dreams. so many pictures of an exhibition. This piece initially written for tenor has been taken up.... by great bariton voices most famously by Fischer – Dieskau and even by female voices (Christa Ludwig). Goerne has a surprising range on the upper end, and at times his tone is beutiful and somber, his diction always clear. The voice was shifting colors tonite, too much singing ?
Christopher Eschenbach was at the piano. We are told that he was a pupil of George Szell and Karajan and a good pupil he was. Actually he is now the conductor of the Paris Orchestra and will be the director of Washington Symphony soon.
we are not told who were his piano influences. Eschenbach is an elegant man from his black Mao shirt to his shining concert scarps. His playing is elegant and fluid as well, and subdued, Everything is sotto voce, his tone smooth refined never did he once overpowered Goerne. This is a perfect ensemble borne from a close collaboration. The sonata in Si bemol magior follows. Eschenbach plays the piano as a conductor. Each hand is a large musical ensemble. The subdued accompanist has become a power house he turns this sonata in a symphonic etude (which were to follow later). The house is on its feet. The Monegasque know a good thing when it happens. Eschenbach has a sweet wimpish smile he seems genuinly touched by this warm public. Monaco is definitely a hub of Classical music just in case you are on the Riviera and are looking for great entertainment.
Peter Hermes
---
Italy and Spain. Tuesday 7 April.
Empire Hall.
Jean-Francois Heisser the Research "ensemble"
It was a memorable evening French musicians playing their cousin countries music as if it was their own. J.F. Heisser is an international experienced and sophisticated pianist. A bit parcimonious with his smile he has learned that you don't go out to the public but you make him come to you. He introduced us to Albeniz (i860-1909) with excerpts from book 1 and book 2 from Iberia and unveiled the intricacies soft and burning of the spanish soul. Heisser has a1 magic touch, you bend forward to catch all the shades of his pianissimos. The complex architecture of Albeniz rendered accessible. He defies the homily that only Hungarian can play Liszt "comme il faut" or Polish pianists Chopin (Remember Samson Francois and Ilana Vered, generations apart.) Heisser was a student of venerated Vlado Perlmuter among the most remembered piano teachers and performers at the Paris Conservatoire National (the Julliard school of Europe) "Perlemuter was difficult with himself and his students "told me J.F. in an interview after the performance. He cast enough doubts about phrasing and structure into everything from Schuman to Chopin through Debussy and Ravel to last for a life time. Nevertheless he had a magic sound, when he finally let go,.and Heisser seemed to have gotten the relay stafette (?).
Luigi Dallapiccola (1904-1975) representing of course Italy followed. His writing is dodecaphonic relating to Schonberg, Webern. The study for violin and piano and divertimento for soprano and ensemble was a healthy sample of his music. It is serial music often rough disconnected it is hard to find a melodic line and the public of Monaco is to be congratulated for staying on and even applauding at the end the hard working musicians Interview with Jean Francois Heisser.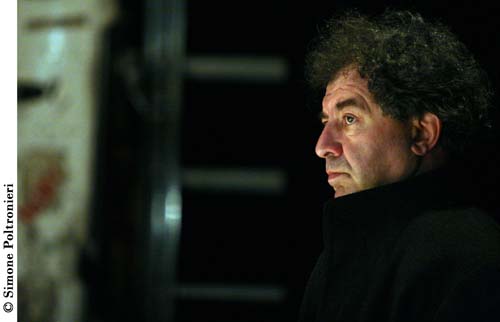 Jean Francois is a friendly pianist who smiles easily during our chat. His successes as a pianist and conductor have not taken him into the nebulous spheres of excessive politeness or reluctant interlocutor. "Perlemuter was "envoutant (absorbing) had magnetism, a great sense of phrasing, a great sound polyphonic and a superb legato."
"Did he take liberties with the texte ?"
"Absolutely not he had a great respect of the written line and expected his students to toe the line..."
"Who else had influenced your musical thinking".
I went to London to work with Maria Curzo and we dissected the classics Beethoven, Brahms, Chopin, Schubert. She had great technique in the tradition of Schnabel, the pupil of whom she was. An exceptional woman as hard as Perlemuter "
"I cherish the encounter with and work with Rita Streich favorite soprano of Karajan and rival of Schwarzkopf and Sandor Vegh in Salzburg. Jf-heisser speaks modestly of himself but has acually played with the greatest orchestras; Orchestre de Paris, l orchestre de la Suisse Romande, London Symphony etc. and was conducted by Dutoit, Conlon, Chung, Mehta etc. He has also played the major music festivals ; Roque d'Antheron, Montreux, Kuhmo etc.
His passion for the spanish music was fostered by the famous spanish teacher who died in an airplane crash and whose name he can't remember, (can any body help ?) He is busy in the summer with the Arles music festival and has been conductor of the Poitou-Charentes Orchestra which will inaugurate a new hall this fall. Would you be there to congratulate again Jean Francois ? He promises he will smile
Peter Hermes
---
The Violoncello night It is all right to say (and write) violoncello rather than cello which is a lazy abbreviation taking the spirit and flesh out of the instrument.
April 11 The Oceanographic museum.
It was a festive evening where more than 1oo cellist made the instrument sing, talk, con legno, in pizzicato and glissandi for an overflowing public that the mortified whales of the museum have never seen in such large and enthusiastic mood.
It was also a wickedly difficult staging feat to juggle so many soloists and programs and eager attendee.
And since this is a conte rendu let's start with the beginning. The beginning was happening on the stairs of the museum where an impressive probably unexpectedly large crowd was amassing impatient to enter. As selected few were ushered in a a solitary courageous female voice screamed (?) "Let us in we are cold and sick of waiting" (approximate translation). In the entrance hall 50-60 students on each side of the hall, of the Monaco and Nice conservatory, were playing first soft then staccato then con legno music conducted by a young bearded chef. The names of the compositions and the conductor remains a mystery as nobody knew them.
Where does one go when faced with three musical events happening simultaneously ?. You choose by, the soloist ? The composer ? The pretty lady who walks in front of you ? I opted for my all time favorite the young and fresh J.S. Bach. The problem was the program in the heavy luxuriant brochure did not reflect the order of the performance or performers nor did it the original plastic card that was handed out at the entrance and pierced just the way it is when you used to enter the Paris subway (way back)...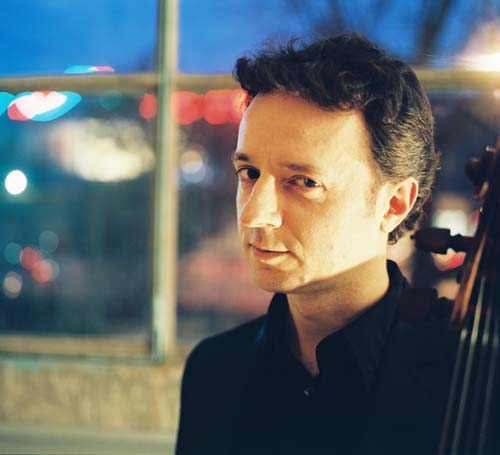 I was in salle de baleine and listening to Marc Coppey a renowned French soloist. His unaccompanied suite n°5 in Do minor by JS Bach received a restrained and straightforward reading somehow the joy and exuberance were not traveling companion in what is considered the ultimate oeuvre written for violoncello. Violoncello has been with us for a while, since the 9 th century more exactly when it was called a Lira. It later advanced to Lira da braccio (of arm) and lira da gamba (of leg) around the 16 century. Eventually tha bass violino the grand father of modern day violoncello makes its entrance with the Great Italian masters Amati and Stradivarius (by the way ALL the great Violloncello creators were italians (one Ruggiero also) except for Vuillemin). A short piece by Gyorgy Kurtag, less than two minutes, brings us back to the 20 century. Kurtag piece is melodious, tender he has been well represented in this festival and rightly so.
Frederic Audibert is our next soloist A young man vivacious with a talent for story telling. Apparently met Rostropovich many times during his tournes in Russia and is often counting anecdotes about the old vixen. But Audibert has a talent for story telling with the violoncello as well. He enchants the public with a rich program of Piatti, Xenaxis, Bach Gabrielli (first piece, arguably, written for the instrument) and Dupart. His tone is a talking voice which is what i always thought the violoncello is or should be.
The literature for the instrument is extensive ; Vivaldi wrote 25 concerti, Boccherini 12, of which one is played, CP bach, Saint Saens, then the romantics : Schumann, Dvorak, Lalo. Finally the contemporary ; Prokofiev, Schostakovich, Dutilleux.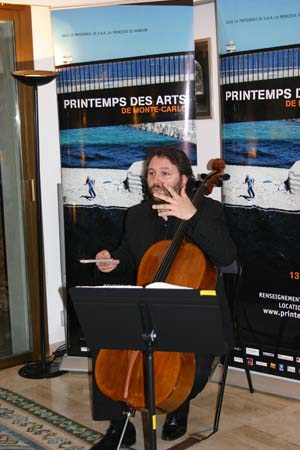 In the olden times women violoncellist used to play side saddle because it was thought improper to part your knees in public. Jacqueline du Pre in the past and Emanuelle Bertrand tonite had no such problem. Her unaccompanied suite no 2 in re minor of JS Bach was vigourous yet poetic delivered straight from "the hip".
I have heard for starters the Amsterdam Cello Octet in Lucian Berio and a transcript of JS Bach by Radulescu a string of solitary voices a Bach chopped in pieces which I could not make sense. Pieter Wispelvey offered contemporary pieces By Crumb and Ligeti with great gusto and energy. So many other interesting soloist I missed because of the no entry policy during the playing. Yet the public is curious and willing and the soloist welcome a swelling audience.
If this daring enterprise is repeated this should be changed and the public instructed to tip toe.
All in all an extraordinary music event which by itself should place this festival among the important musical manifestations in Europe.
Peter Hermes
---
Monday April 13.
Sporting d'hiver Salle des Arts
Zehetmair is a name difficult to pronounce or remember but yesterday evening this quator certainly made a dent in the memories of the large and enthusiastic public present.
We were told this group performs standing, facing each other and plays without score the better to synchronize their energies. Yesterday, they decided to perform sitting, albeit without score, and there was still energy awash The Mozart quartet en sol magior K156 is a youth work. Composed in Milan (?) when he was barely 16 years old, (an age most of us still play amateur soccer) they gave us a vigorous, fresh and colorful reading. As the erudite Corinne Schneider explained before the concert it is not that Mozart forgot to write a fourth movement, this is just the way quartets, were written at that time.
A leap of almost 150 years took us to contemporary Hindemith. At the time of his writing, beginning 20 century, the quatuor op.72 was considered a major work. Hindemith married and settled in a bucolic country life was composing serenly. This work is melodic, much less atonal or dodecaphonic than the earlier compositions we heard during this festival. The ravages of the wwI that marked his early compositions, seems to have been slowly receding. The quatuor played with much control getting all the nuances of this text probably still not easy to remember by heart, demanded. It is of note that without score the player concentrate on their instrument only occasionally glancing at Mr. Zehetmair who cues with the head, with the eyes, occasionally with a slight mouth twitch (is he headed for a conducting career as other first violinist recently did vide the Tokyo quartet).
Schuman quatuor in La minor was the last piece on the program.This enormous genius waited until age 31 to compose this work much influenced by Felix Mendelssohn to whom the work is dedicated.
The Andante much of a work by itself is followed by Allegro and Adagio where the string instruments pass each other the singing theme. A brilliant presto is turning the stage into a real "champ de bataille" rich in virtuoso playing.
The ensemble has delivered a wholesome experience and the 27 minutes the program notes mention seemed to have passed much faster. So was impressed too Clara Schuman the famous pianist and wife "My dear Robert has gifted me a splendid work and my veneration for his genius and intellect grows with each composition "How do we explain that she consented to have him placed in psychiatric asylum, kept him there in spite of his pleas to take him home, visited little and continued to have a feverish, social, extramarital (with Brahms ? Questionable) and musical life. Posterity is still asking questions.
The ensemble offered a brief sparkling delicious encore. Composer ? By the unanimous vote of the travelers back to Nice, that the Printemps des Arts has put graciously to our disposal the entire festival, the vote went to Haydn, Champagne Haydn.
Peter Hermes